WordPress LMS Plugins: A Quick and Easy Way To Sell Courses Online
Published on November 13, 2022 by Simon Wright
Today, we'll show you how you can quickly and easily begin selling online courses on any topic using WordPress LMS plugins.
This article will discuss what learning management systems (LMS) are, how they can benefit you, and which features you should typically look for when choosing one. We'll then show you some of the best currently available.
Ready to learn? Great, let's dive in!
What Is An LMS?
Like online shopping, internet-based learning is cost-effective and highly convenient for both learners and course providers. Learners have immediate access to course content from the comfort of their homes or offices, while providers can automate much of the enrollment and learning process, thereby significantly reducing costs.
The number of online courses now available is mind-boggling. For example, just look at course marketplaces like Udemy, Coursera, or Skillshare, and you'll see options covering everything from creative writing through wig-making to psychology. Heck, there are even courses on creating online courses! It figures, therefore, that online learning is very lucrative for course providers.
Another factor in the rush to create online courses was the COVID-19 pandemic. This forced all educational institutions to operate online. Moreover, people had plenty of time on their hands but could not leave home, so online courses became a popular way of filling otherwise long days.
In simple terms, a learning management system (LMS) is a suite of tools designed explicitly for enrolling students and presenting their course materials online, thereby eliminating the need for them to attend in-person classes. They typically allow you to build courses from scratch, enroll and manage students, issue lessons and assignments, examine students, and confer an award if necessary.
Learning management systems have a range of applications, including:
Schools, colleges, and universities moving to online learning or offering distance learning.
Companies wishing to offer convenient online internal training courses to their staff.
Individuals and companies that want to sell single or multiple online courses.
YouTubers wishing to consolidate their content into a formalized course.
Sometimes, you don't need all of that functionality of an LMS, and just want to sell a course and give instant access, without the clunkiness associated with an LMS. In that case, we recommend ProductPress. It's a simple plugin that allows you to restrict access to content on your WordPress site, so that only people who pay for access can view it.
What Are the Key Features To Look For in WordPress LMS Plugins?
Let's now look at the key features all self-respecting WordPress LMS plugins should possess:
Templates, drag-and-drop builders, and wizards can help simplify course creation, allowing you to structure things precisely how you want them. Moreover, the plugin should allow you to create learning materials and lessons from various sources, such as documents, spreadsheets, presentations, PDF files, videos (direct uploads or from platforms like YouTube or Vimeo), sound files, etc.
Student Enrollment and Management Tools
Automated enrolment, payment capture, and data collection facilities will help you manage your student base and accounts.
These require learners to complete a module or other task before unlocking the next. This ensures they complete the course in a logical sequence and prevents them from 'jumping the gun.'
Tests, Assessments, and Quizzes
These evaluate how much of the course material the student has learned, which can be a big motivator for learning. Moreover, they can be combined with content drips to trigger the next part of the course.
Students usually like to be kept informed of how far through the course they are and how they are performing. Providing this information helps keep them motivated.
Contact Forms, Chat Rooms, and Forums
A means for students to easily get help should they run into difficulty is essential. At the very least, a contact form should be provided. Alternatively, you can offer online chat with tutors (either live or automated), while chat rooms and forums can allow students to interact and support one another.
Homework and Assignments Tools
These should present the assignments to the student at the appropriate time and make the submission process as easy as possible. Moreover, it is preferable that they also help course tutors with grading, possibly by automated marking.
Automated Emails and Notifications
These can have a variety of applications, including reminding students that an assignment is overdue, drip-feeding course content, updating students on their progress, and circulating marketing material.
Badges, Certificates, and Leader Boards
Just as kids like getting gold stars, adult learners also enjoy receiving 'rewards' such as a badge for a job well done, while leaderboards bring a sense of competitiveness which can also be a great motivator.
The LMS should be able to issue personalized printable certificates upon successful completion of a course or section.
These allow you to instantly capture payments, either in full upon enrolment, in stages, such as monthly or quarterly, or when a particular module has been successfully completed.
Of course, the specific features you should look for depend on your requirements. As such, you may need some or all of those mentioned above.
The Importance of Good Hosting
Before we show you some great WordPress LMS plugins, we want to stress the importance of having good hosting for your learning website.
Online courses tend to have lots of bandwidth-sapping content: videos, audio, images, PDF documents, etc. That means that while shared hosting is inherently cheap, performance will likely suffer when used to host learning websites.
A better option is to use servers where you have your own dedicated server space and resources. This is where WP Bolt can help, as they are specialists in high-performance WordPress Virtual Private Server (VPS) hosting that is ideally suited to educational websites.
Click here to learn more about the differences between shared and WordPress hosting.
Our Picks of the Best WordPress LMS Plugins
We will now show you our top picks of the best WordPress LMS plugins currently available.
LearnDash is a WordPress LMS plugin that has gained a robust following with prestigious educational establishments and blue-chip companies globally, thanks to its excellent feature set.
With LearnDash, you can sell courses using any pricing model, such as subscriptions, memberships, or one-time purchases. Therefore, you have total control over billing and content access. Moreover, the plugin works with any WordPress theme and most popular page builders, so integrating it into your existing website will be straightforward.
As it is a premium-only plugin, the LearnDash features list is extensive and includes goodies like:
Create unlimited courses and users
Drag and drop builder and course creation wizard
Range of customization options
Dynamic content delivery, including drip feed
Advanced quizzing with eight question types
Badges, certificates, and leaderboards
Student discussion forums
Automated notifications with configurable triggers
Support for most popular payment gateways
Student enrolment, progress, and performance reports
Option to offer free course samples and trials
Demo site template
Several integrations, including Mailchimp, Slack, WooCommerce, etc.
Rest API for developers
Functionality can be extended further thanks to a wide range of developer and community add-ons (free and paid.)
Three levels of LearnDash pricing are available based on your number of domains. If you only have a single site, the plugin costs $199 annually, while ten websites will set you back $399. Unlimited sites cost $799. A fifteen-day money-back guarantee backs all purchases
Next on our list is LifterLMS, a popular freemium WordPress plugin for creating online courses and membership sites. The free version has sufficient functionality to get you started with a robust course, while the paid versions include various add-ons for things like eCommerce, marketing, CRM, etc.
The free core version of LiftLMS includes the following key features:
Drag-and-drop course builder
Custom course progress sidebars
Content drip feeds and prerequisites
Timed quizzes and grading
Certificates, awards, and badges
Configurable membership levels
Student management
Detailed student profiles and frontend dashboard
Discussion areas
Analytics, including tracking of orders, refunds, etc.
Payment capture and unlimited payment models (e.g., one-time, recurring, course bundles, etc.)
Course reviews
Promotional discount coupons
Personalized emails and text messages
Device responsive
Course import and export feature
eCommerce support and dashboard
Full details of all LiftLMS features are available here.
Three premium bundles of LiftLMS are available. 'Earth' costs $149 per year for a single site, 'Universe' is $360 for up to five domains, and 'Infinity' costs $1,200 for unlimited websites. Depending on which bundle you purchase, expect to get some or all of the following additional features:
Multiple technical support accounts
Advanced assignments and quizzes
Private coaching and social learning features
Advanced video features
Custom fields
Groups
Premium support
All purchases of LiftLMS premium products come with a thirty-day money-back guarantee. Moreover, a thirty-day trial is available for just $1.
Tutor LMS is a new WordPress plugin rapidly gaining popularity in the learning community thanks to its user-centric interface that makes course creation and management a breeze. In fact, the plugin has already been downloaded over sixty thousand times from the WordPress plugin directory alone.
Tutor LMS is a freemium plugin. The free version includes sufficient features to get you started with online courses, including:
Unlimited courses, tutors, and students
Content protection features
Course reviews and ratings
Video support (native, YouTube, and Vimeo)
Course filters
Quizzes (albeit with limitations)
A range of integrations, including Elementor, WooCommerce, Divi, Easy Digital Downloads, etc.
Course marketplace creation (think Udemy or Skillshare)
Installation wizard
To capture payments, you must invest in a premium plan. These currently cost between $119.40 and $479.40, depending on how many websites you have. All premium plans include the following additional features and more:
Frontend course builder
Drip feed
Course preview and attachments
Multiple instructors
Student grading
Certificates, including custom builder
More advanced quiz features
Detailed reports and analytics
Variety of notification features (email, push, triggers, etc.)
Several course monetization options
Range of add-ons and more integrations
Support
If you need continuous support, lifetime licenses are also available. Moreover, all purchases of Tutor LMS come with a thirty-day money-back guarantee. Non-profits are eligible for a 30% discount also.
If elegant simplicity is what you are looking for, LearnPress may be your ideal WordPress LMS plugin.
While it is free, the core version of LearnPress is somewhat limited, basically only giving you an interface for creating and managing courses and students. For anything more, you will need to invest in some of the available add-ons. These vary in price from free up to $69 and include things like:
Add-ons for specific tutor types, such as teachers, trainers, coaches, and instructors. Each of these contains appropriate tools for creating courses and lessons and managing students
Course creation and management tools, including drip feeds, quizzes, co-instructors, grade books, etc.
eCommerce tools for selling and marketing courses, including WooCommerce and Stripe integration, commissions, etc.
The upside of using a free plugin with paid add-ons is that you won't be paying for functions you will never use. However, the aggregated cost of lots of add-ons could be high, so a Pro bundle at $299 might be more cost-effective. Another downside of lots of add-ons is slower page speeds.
LearnPress developers say the plugin will work with any WordPress theme. However, they also sell a range of premium education-based ones designed to work with LearnPress. Coupling one of those with the LearnPress LMS may make building your online college easier.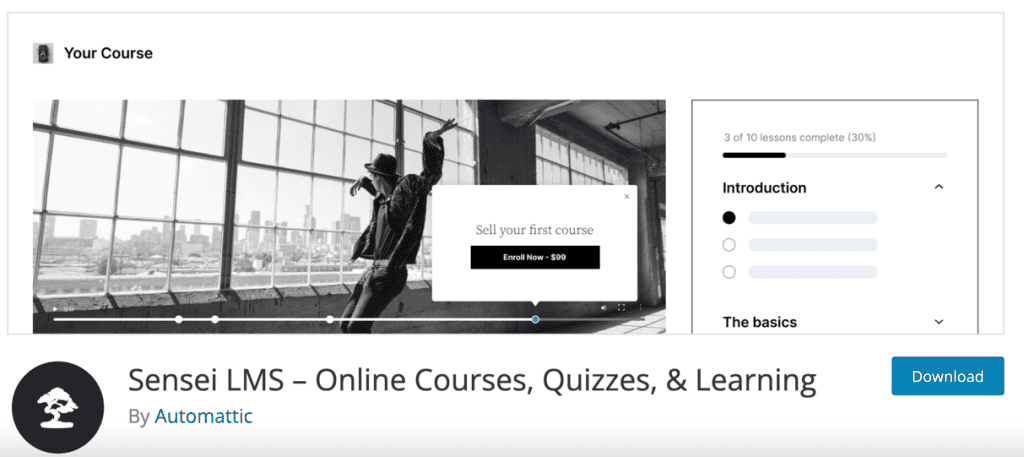 Since Sensei is a WordPress LMS plugin developed by the creators of WooCommerce and Jetpack, it is not surprising that it is well-developed, robust, and fully featured. And, of course, it integrates seamlessly with both, making it ideal for selling online courses through either new or existing eCommerce stores.
While the free version of Sensei does not accommodate paid courses (you need a Pro upgrade for that), it does have plenty of other great features, including:
Create a variety of course types, including video, micro, etc.
Quizzes with personalized feedback
Prerequisites
Certificates
Exportable reports
WC Memberships, VideoPress, and AutomaterWP integrations
Open source
Support via creators' group, guides, and resources
Sensei Pro costs $149 per year per domain and adds tons of extra tools for building online courses precisely as you want them:
Paid courses
Scheduled and drip-feed lessons
Cohorts and access periods
Ordering question
Timed quizzes and quiz questions
Compulsory completion of videos or blocks before progressing to the next
Conditional content and block visibility
Interactive videos, flashcards, image hotspots, and checklists
WooCommerce and WooCommerce Subscriptions integrations
Enhanced support
A fourteen-day money-back guarantee supports all Sensei Pro purchases.
Interestingly, the developer also offers a product called Sensei Blocks. This costs $49 per year for one domain and allows you to embed their interactive blocks anywhere in your site's content without needing the entire Sensei LMS. Therefore, it is possible to add interactive videos, flashcards, task lists, and more to posts, pages, lessons, or other plugins.
Some Final Thoughts on WordPress LMS Plugins
Plenty of WordPress LMS plugins are available, but in all honesty, many are not great because they lack features, have poor support, or are ridiculously expensive.
Therefore, when looking for the right plugin for creating your online courses, we recommend you keep in mind the key features discussed earlier in this article. Moreover, please consider the five plugins we have listed, as you won't be disappointed with whichever of those you choose.
We hope you enjoyed reading this article. Until next time!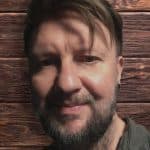 I'm a former construction industry professional who came out of the writer's closet and am now totally comfortable with my creative side. My pronouns are smart, creative, witty, and dependable. I have written content in a number of niches including WordPress, plus I'm a blogger and affiliate marketer. If you'd like to know more about how I can help you, please head over to my website.
Want to speed up your web site?
WP Bolt makes it easy and affordable to have a High Performance WordPress VPS server.